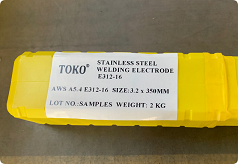 TOKO AWS A5.4 E312-16, STAINLESS STEEL Covered Arc Welding Electrodes, also known as stainless alloy "easy all steel" specialty welding electrodes are the ultimate rods for most grades of steel using any stick electrode power source. Can be used by anyone, regardless of prior welding experience. Features a superior combination of tensile strength and elongation. The arc is so ionized that you can not short it out.
E312-16 is used for welding type 316L or 318 stainless steels. It has a maximum of .04% carbon content in the weld metal, which reduces the possibility of carbine precipitation and consequent intergranular corrosion. This electrode is widely used in the welding of chemical equipment..
Features of E312-16
Can be used for joining hard to weld materials and dissimilar metals
Applications should be limited to 800°F (420°C)
The weld deposits exhibit high tensile strength and offer some resistance to abrasion
Weld deposits work-hardens and allows for good wear resistance
Typical Applications
Tool Steels
Hard to Weld Steels
Cast and Wrought Alloys
Dissimilar Metals
Welding Positions
All positions, except vertical down
AWS A5.4 E3

12-16 Chemical Compositions (%)

Elements

C

Mn

Si

S

P

Cu

Ni

Cr

Mo

Balance

Requirement
≤0.15
0.5~2.5
≤1.0
≤0.02
≤0.03
≤0.75
8.0~10.50
28.0~32.0
≤0.75
---
Results
0.04
1.24
0.45
0.01
0.017
0.20
9.72
28.50
0.015
---

 

AWS A5.4 E312-16 Mechanical Properties

 

Yield Strength (MPa)

Tensile Strength (MPa)

Elongation(%)

Akv (J/℃)

Requirement
/
≥660
≥22
/
Results

/

760

26

/
| Electrode Diameter (MM) | Electrode Length (MM) | AMP Range (A) |
| --- | --- | --- |
| 2.5 | 300 | 70 ~ 85 |
| 3.2 | 350 | 85 ~ 110 |
| 4.0 | 400 | 110 ~ 140 |
| 5.0 | 400 | 120 ~ 160 |
The information contained or otherwise referenced herein is presented only as "typical" without guarantee or warranty, and TOKO Corporation expressly disclaims any liability incurred from any reliance thereon. Typical data and Test results for mechanical properties, deposit or electrode composition and other properties were obtained from a weld produced and tested according to prescribed standards, and should not be assumed to be the expected results in a particular application or weldment. Actual results will vary depending on many factors, including, but not limited to, weld procedure, plate chemistry and temperature, weldment design and fabrication methods. Users are cautioned to confirm by qualification testing, or other appropriate means, the suitability of any welding consumable and procedure before use in the intended application.