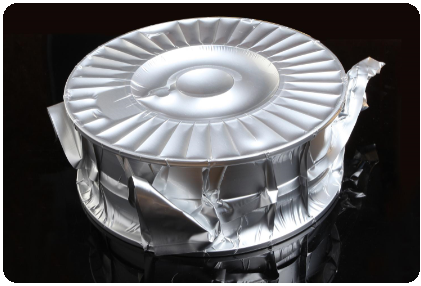 AWS A5.20 E71T-1C:
TOKO AWS A5.20 E71T-1, Flux Cored Wire is a titanium type Co2 gas-shielded flux-cored welding wire for low carbon steel and 490MPa high strength steel. It has excellent welding performance, soft and stable arc, lower spatters, good slag detachability and beautiful appearance of weld; suitable for all-position welding.
E71T-1 flux cored welding wire has high welding efficiency. The weld metal has been given toughening treatment by microelements, so it has excellent low temperature toughness, good crack-resistance, stable and reliable inherent quality.
Applications:
AWS A5.20 E71T-1C is applied in welding structures made of carbon steel and low-alloy structural steel with tensile strength higher than or equal to 490MPa. Most widely used for welding some key structures like shipbuilding, mechanical manufacture, pressure vessels, boilers, petroleum machinery, chemical machinery, hoisting machinery etc.
Notes of usage:
1. Adopt degreasing and rust cleaning process before operate.
2. Shielding gas flow: 20-25L/min when welding
3. Extension: 15-25mm
4. The humidity of welding wire storage should be less than 60%
5. Storage period: Vacuum packaging less than 1 Year, other packaging less than half year.
AWS A5.20 E71T-1C 1.2MM Typical Chemical Compositions (%)
 
 
 
 
 
C
Mn
Si
S
P
Cr
Ni
Mo
Balance
0.045
1.30
0.35
0.011
0.012
0.02
0.01
0.02
---

 

AWS A5.20 E71T-1C Typical Mechanical Properties of Weld Metal

 
 
Yield Strength (N/mm)

(kgf/mm2)

Tensile Strength (N/mm2)

(kgf/mm2)

Elongation(%)
Reduction Area(%)
Impack Value (J/℃)
480 (49)
550 (56)
29
69
65J / -20℃
Available Sizes and recommended Current Ranges

 
 

Diameter (MM)

1.2MM
1.6MM
Current (Amp)
Flat
120~300
180~450
 
Vertical Up/Overhead
120~260
180~280
 
Vertical down
200~300
250~300
The information contained or otherwise referenced herein is presented only as "typical" without guarantee or warranty, and TOKO Corporation expressly disclaims any liability incurred from any reliance thereon. Typical data and Test results for mechanical properties, deposit or electrode composition and other properties were obtained from a weld produced and tested according to prescribed standards, and should not be assumed to be the expected results in a particular application or weldment. Actual results will vary depending on many factors, including, but not limited to, weld procedure, plate chemistry and temperature, weldment design and fabrication methods. Users are cautioned to confirm by qualification testing, or other appropriate means, the suitability of any welding consumable and procedure before use in the intended application.